Winder Housing Authority Receives Award of Merit from NAHRO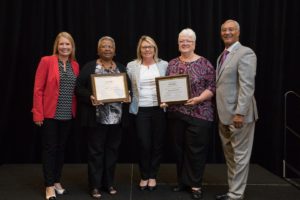 Winder, Georgia –  The National Association of Housing and Redevelopment Officials (NAHRO) recently honored Winder Housing Authority with two (2) 2018 Awards of Merit. The winning projects were: Wimberly's Roots Demonstration Kitchen and Garden in Program Innovation – Community Revitalization and Wimberly Center for Community Development in Program Innovation – Community Revitalization.
Wimberly's Roots Demonstration Kitchen and Garden addresses some of the fundamental challenges facing the community. Classes offered to neighborhood residents, youth, and seniors are designed to educate the community about healthy cooking and food preservation techniques. Food-related resources are available to neighborhood residents and those involved with various groups. Community members gain skills needed to grow their own gardens and supplement their diets with food they grow. Wimberly's Roots incorporates the outdoors as a classroom, reconnects students with nature and the true source of their food, and teaches them valuable gardening, agricultural and healthy lifestyle skills.
The Wimberly Center for Community Development has become the catalyst for Winder's urban renewal by offering programs and services that are not only needed but necessary to the community. Our state of the art resource center allows nonprofits and governmental agencies the opportunity to collaborate under one roof, reducing overhead and allowing each to focus on their core business.
"These agencies have put a lot of thought, creativity and hard work into helping residents improve their lives and into revitalizing their local communities," said NAHRO President Carl S. Richie, Jr. "I am proud to celebrate their achievements."
The NAHRO Awards of Merit program was created 19 years ago to recognize agencies who found innovative ways of making a difference in their communities and in the lives of the people they serve by creating affordable housing, revitalizing their neighborhoods, and developing initiatives such as job readiness programs, public-private partnerships, disaster prevention projects, and more.
"Our industry is continuously innovating to address changing local needs and to create new opportunities in their communities," said NAHRO CEO Adrianne Todman, "Congratulations to this year's top innovators!"
Contact: Michelle Yawn, 770-867-7495 Extension 1005
About NAHRO
NAHRO, established in 1933, is a membership organization of nearly 20,000 housing and community development agencies and professionals throughout the United States whose mission is to create affordable housing and safe, viable communities that enhance the quality of life for all Americans, especially those of low- and moderate-income. NAHRO's membership administers more than 3 million housing units for 7.6 million people.

Background of Wimberly Center for Community Development
Winder Housing Authority's Mission Statement: " To promote adequate and affordable housing, economic opportunity, and an enhanced living environment for our community".
Winder Housing Authority (WHA) prides itself on partnering with community organizations to provide resources that our clients need in order to become self-sufficient. These partners include local banks and churches, private sector, nonprofit, and governmental agencies.
In 2012, in conjunction with HUD's ROSS program, WHA established the Family Self Sufficiency Program. 25 families committed to sign a five year contract to become self-sufficient. Through that process, WHA partnered with a number of organizations that bring valuable services to our participants.
As we began to work with our partners we realized that it would be beneficial to have as many partners under one roof, for not only our clients and the community, but also for the agencies to be able to share resources, knowledge and build relationships.
When we learned that the abandoned Winder Barrow Middle School (WBMS) was up for sale WHA decided that this, along with its adjoining Osborne Park, may be an excellent location for this "ONE STOP SHOP" and some additional workforce or senior housing (mixed income, not public housing).
In Jan. 2013, City of Winder's Urban Redevelopment Plan (URP) was approved, which identified 5 areas of Winder as blighted and needing a facelift. Glenwood was one of those areas. Renovating the school into a resource center was certainly validated.
As part of the URP, community meetings and surveys ( provided in partnership with NEGRC) identified after school programs for youth, and home ownership education/opportunities as top priorities.
WHA negotiated a contract with Barrow County Board of Education to purchase WBMS and Osborne Park on March 20, 2014.
In mid- 2014, City of Winder and WHA partnered up on a $500,000 CDBG application, where the City was the lead applicant. In August 2014, we were successfully awarded the grant for $500,000.
During the same time, WHA decided to participate in HUDs RAD program, converting their entire portfolio of PH under HUDs PIH program to PBRA under HUDs Housing-Multifamily Program. RAD allows PHAs to bring in private capital/resources, in order to meet the demands for capital improvements. As of Jan. 2016, all WHA units have been sold to WHA affiliates, and are being operated as project based rental assistance units. WHA is the Mgmt. Agent for these sites. The sales proceeds of the units enabled WHA to purchase the Wimberly Center.
On February 2, 2016, WHA purchased the school and adjoining Osborne Park (20 acres total), who's namesake Mr. Robert Wimberly, a community pillar, served as principal at the school for many years and served on the WHA Board of Commissioners for 15 years.
Current partners include:
Winder Housing Authority has a mission beyond owning and managing affordable apartments.  We believe that we have an obligation to use our resources to assist our residents onto a path of self-sufficiency and upward mobility.  WHA assists residents in developing the skills needed to make a better life for themselves and their families.  Some of the programs and services available to residents include: Job Readiness & Employment Services, Demonstration Kitchen, Computer Labs, Community Gardens, Transportation Assistance, Summer Lunch Program, Community Library, Scholarship Opportunities, Youth Programs and more.
Boys & Girls Club of Winder-Barrow is a youth development program for boys and girls ages 6 -18. It operates a neighborhood-based facility designed exclusively for children and teens. Their Mission is to inspire and enable all young people, especially those who need us most, to realize their full potential as responsible, caring, and productive citizens and leaders.In 2017 the Boys & Girls Club of Winder-Barrow partnered with the Barrow County School System (BCSS) and the Georgia Department of Education (GADOE) to provide free after school and summer camp programming. The program entitled "Making Minutes Count for Success," a 21st Century Community Learning Centers (CCLC) program, is designed to serve over 100 students from the selected schools: County Line, Holsenbeck, Kennedy, Statham, and Winder Elementary schools (STUDENTS MUST BE IN FIRST – FIFTH GRADE). Transportation is provided. From simple games to leadership opportunities, from homework help to recreational activities, the Club is a safe place where young people can grow and learn, enjoy themselves and their friends, in a well-supervised atmosphere. Transportation is provided from Russell Middle School, Westside Middle School, Bear Creek Middle School, and Winder Barrow High School.
ACTION, Inc, a community action organization, includes housing counseling , financial literacy / budgeting, home maintenance​, rental rights and responsibilities, first-time home buyers, mortgage default,  gardening classes,  cooking classes, canning classes and more. In addition to the Full Plate, Community Services and Weatherization programs, ACTION dedicated a new focus to attack poverty by offering a hands-up approach. Through education and education-based training opportunities, we partner with individuals who are willing to do what it takes to achieve their career goals. We do this by helping participants identify their career goals and the barriers keeping them from being able to realize their dreams. We then provide mentoring, career coaching, soft skills training, financial assistance to help minimize barriers including transportation and child care costs, and other services necessary to help each participant stay the course. We have many success stories throughout our educational programs!  ACTION programs include: High School Youth, Educational Reentry, Fostering Transitions, Achieving Career Excellence, Opportunities Now, Kids in ACTION at the Pencil School – Oglethorpe County, Weatherization and Emergency Home Repair, Community Services, Housing Counseling and Full Plate. 
Piedmont CASA (Court Appointed Special Advocates for children) – a nonprofit child advocacy program that serves Barrow, Banks and Jackson Counties. A Court Appointed Special Advocate (CASA) is a trained community volunteer who is appointed by a judge to advocate for the best interests of an abused or neglected child involved in juvenile court dependency proceedings. The CASA volunteer gathers information about the child's situation, attends court proceedings and makes a recommendation to the judge so that the judge has the information to make a decision about the child's future. A CASA volunteer protects a child's right to be safe, to be treated with dignity and respect, and to learn and grow in the safe embrace of a loving family. CASA volunteers are amazing people and our wish is for every foster child to have one. If you, or others you know, have the passion to help these children, and can make the time to do it, we can use your help!
Live Forward has a mission to build healthier communities through stable housing, improved health management, strong community outreach and widespread prevention services, ensuring those we help live with dignity and a positive quality of life. The vision of Live Forward is to meet clients where they are by providing secure housing, increased independence and giving a voice to breakdown stigmas and end the cycle of poverty in our community.
Adult Literacy Barrow (ALB) is a non-profit organization that promotes literacy opportunities in Barrow County. ALB initiates, plans, directs, and coordinates programs for adult education such as citizenship classes, GED programs and English as Second Language classes. Adult education is vital to workforce development in Barrow County because it provides an avenue for workers to pursue higher education and improve their skills. Transportation is provided. Please call for transportation availability. 

The childcare center, Little Lakers Child Care, is open Tuesday & Thursday mornings from 8:00 to 12:00. It's available for the children of our registered students. The cost is $5 per day per child. Little Lakers Child Careis registered through the Bright from the Start Georgia Dept. of Early Care and Learning as an exempt program. The children can be from 12 months through 5 years of age. Parents are required to stay on campus while attending GED or English as Second Language classes.

Lanier Tech offers The Adult Education Program specifically designed for adults who have different needs, backgrounds, and skills. For that reason, a flexible program has been created which meets their needs. Lanier Technical College is ready to assist individuals to reach their dreams and capture their future. GED® and English Literacy classes taught at Lanier Technical College are free of charge. GED® instruction includes beginning reading, writing, and math all the way to high school completion through the General Education Development (GED®) Program.
Habitat for Humanity Barrow County partners with people in your community, and all over the world, to help them build or improve a place they can call home. Habitat homeowners help build their own homes alongside volunteers and pay an affordable mortgage. With your support, Habitat homeowners achieve the strength, stability and independence they need to build a better life for themselves and for their families. Through our 2020 Strategic Plan, Habitat for Humanity will serve more people than ever before through decent and affordable housing.
Barrow County Family Connection is a community-based partnership between public/private agencies, businesses, faith based community, local government, and citizens who serve as part of the decision-making body for improving results for children and families.
A Kid's Dream is a non-profit organization with a 501(c)(3) status. We are dedicated to the advancement of socioeconomically disadvantaged youth into higher education with a character and values building mentoring service program for disadvantaged girls from the ages of 11-19 and boys from 13-19.Our vision

to empower and support youth to become productive members of society

to see as many kids assisted with navigating the process of entering higher education while proving assistance and support for parents/guardians who are unclear of how the process works to help their child move into the post high school education process.

to continue to offer our services at no charge to any socioeconomically disadvantaged child or parent/guardian.

to help each child recognize their full potential. We believe that each child is fearfully and wonderfully made and our vision is to make sure they are fully aware of it!
To date, 50 honor students from the Illinois State University have volunteered at Wimberly Center as well as a number of other nonprofit and civic organizations.
In conjunction with the Wimberly Center, WHA plans to build a senior housing development at Osborne Park property, adjacent to the school, where coordinated activities with the Boys & Girls Club youth and the seniors will be possible.
WHA purchased an additional 10 acre tract that will be a future single family site.